I have had a lot of friends and family asking me about Young Living's Thieves® products.
I will tell you they are a natural and and chemical free.I love the smell my house has after Ive cleaned it. How does it smell? Well I think of fall and christmas. The first time I tried Thieves oil was in my steam shark. I put distilled water and about 1o drops of the Thieves Essential Oil, wow my floors looked great and my house smelled awesome! Then I wanted to try the house hold cleaner ! I am sold.
Check out all the Thieves® Products. I am sure you will love them as much as I do
The power of Thieves in every room of your home
Young Living's proprietary Thieves® essential oil blend was inspired by the legend of four 15th-century French thieves who formulated and wore a special aromatic combination of clove, rosemary, vinegar, and other botanicals that they believed provided protection while they were stealing. French authorities recognized that there was such value in this mixture that upon the thieves capture, they received a more merciful punishment on condition that they divulge the ingredients in their secret formula.
Crafted in the spirit of that legendary combination, Young Living's one-of-a-kind Thieves blend can be found in all of our Thieves products. Featuring the powerful essential oils Lemon, Clove, Cinnamon Bark, Eucalyptus Radiata, and Rosemary, Thieves imparts a spicy, welcoming aroma everywhere it's used. Possibly our most versatile and beloved blend, Thieves is an important ingredient in our home cleaning and personal care products, replacing harsh chemicals with pure, therapeutic-grade essential oils and other naturally derived ingredients.
Thieves essential oil
Featuring all the benefits of our powerful, proprietary Thieves blend—including cleaning power and an irresistibly spicy scent—Young Living offers Thieves on its own as a topical/aromatic essential oil blend and as a dietary supplement as part of our Vitality™ essential oil line. Thieves essential oil blend is also an important ingredient in our full range of home cleaning and personal care products, from dish soap to toothpaste.
Thieves cleaning products
Keeping a clean house doesn't have to mean using toxic chemicals. Trust our aromatic, Thieves-infused household products for a naturally derived, effective alternative to traditional cleaning products.
Learn More
Thieves dental care products
Healthy teeth and gums start with products that clean and protect without harsh chemicals. Discover the natural solutions for oral health with our essential oil-infused oral care products.
Thieves personal care products
Pairing personal care products with Thieves is a natural fit, since Thieves is the perfect combination of effective and gentle! Be sure to stash a few Thieves personal care products in your purse or backpack to bring wherever life may take you.
Here is a great way to try some of the Thieves® Products
Premium Starter Kit
Follow my link
Texasessentialoilers.com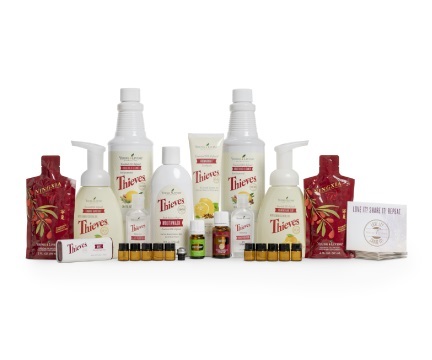 Missy