Fitness Set
This specially priced set of Young Living products helps support an active life style and includes two recently launched products.
With AgilEase™,PowerGize™, Ningxia Nitro®and Peppermint Vitality™,its a gift that benefits everyone ,from the fitness beginner to the regular gym-goer!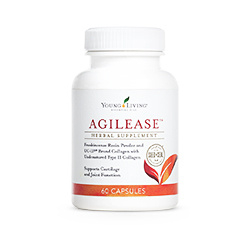 Especially beneficial for athletes, as well as middle-aged and elderly people who may experience a natural, acute inflammation response in their joints after exercise, AgilEase™ is a joint health supplement that's perfect for healthy individuals who are looking to gain greater mobility and flexibility through the reduction of inflammation.
We used unique and powerful ingredients such as frankincense powder, UC-II undenatured collagen, hyaluronic acid, calcium fructoborate, and a specially formulated proprietary essential oil blend of Wintergreen, Copaiba, Clove, and Northern Lights Black Spruce—oils that are known for their joint health benefits. Take AgilEase to support joint health or as a preventative measure to protect joint and cartilage health.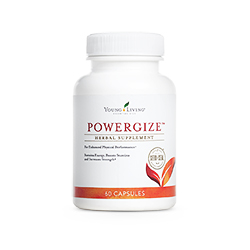 Inspire your inner athlete with PowerGize™! This supplement—infused with Blue Spruce, Goldenrod, and Cassia essential oils—is specially formulated to help individuals of all ages boost stamina and performance.* With botanicals from around the world, PowerGize helps sustain energy levels, strength, mental and physical vibrancy, and vitality when used in addition to physical activity.*
PowerGize is also formulated with KSM-66, a premium ashwagandha root extract, which is touted for its properties that support immunity, mental clarity, concentration, and alertness. Its custom formula helps support the male reproductive system.*
*These statements have not been evaluated by the Food and Drug Administration. This product is not intended to diagnose, cure, treat, or prevent any disease.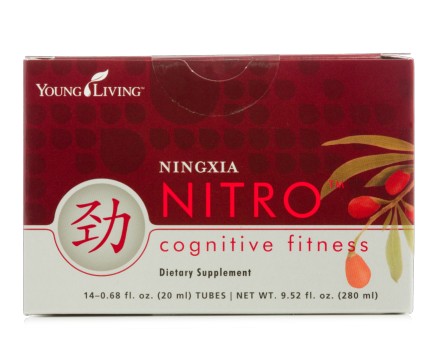 When you need a midday boost, it's easy to reach for things like soda and energy drinks. Skip the sugary solution and reboot with an option from Young Living. With NingXia Nitro®, you'll get a quick pick-me-up without the sugar or caffeine overload. Infused with essential oils, botanical extracts, D-ribose, Korean ginseng, and green tea extract, NingXia Nitro supports alertness, as well as cognitive and physical fitness.*
A great support for body and mind wellness, use NingXia Nitro for running, weightlifting, or getting through your afternoon slump. The naturally occurring caffeine in Young Living's NingXia Nitro supports normal energy levels and alertness to help you with a busy day or a tough workout.*
Stash Nitro wherever you need it! The small, convenient packaging makes it a great addition to your office desk, gym bag, or purse. Each box contains 14 20-ml tubes.
NingXia Nitro Uses
Take a shot of Nitro when your early-morning routine demands alertness and a quick start to the day—especially after a restless night's sleep!*
Keep Nitro on hand to help you stay your sharpest through the workday.*
Store Nitro in your gym bag for a boost during your workout.*
Energize during all-day outdoor adventures. You can store Nitro on the boat, in your daypack, or in your ski jacket.*
Pack Nitro while travelling to help you stay alert and upbeat during all-day walking, sightseeing, and tours.*
* These statements have not been evaluated by the Food and Drug Administration. Young Living products are not intended to diagnose, treat, cure, or prevent any disease.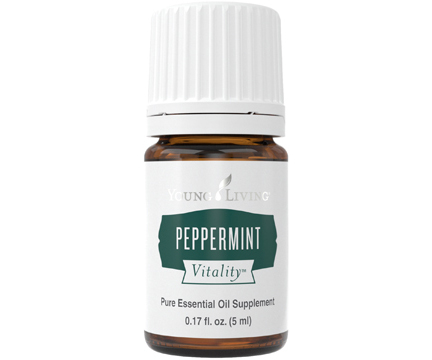 Peppermint Vitality essential oil (Mentha piperita) has a bright, cool flavor, with benefits that include gastrointestinal comfort and normal digestion support, in addition to its great taste.* Store Young Living's Peppermint Vitality oil in your pantry as a flavoring agent or a dietary supplement.
Peppermint Vitality™, part of our Vitality line for culinary and dietary use, is a versatile oil with a well-loved flavor. As a dietary supplement, Peppermint Vitality oil can support healthy gut function and digestive efficiency.* These benefits make it a great way to start your day or end a meal. Additionally, Peppermint Vitality oil as a dietary supplement may support exercise performance to help you have a great workout.
Because of its great taste, it's easy to add this versatile oil to your tea or experiment with it in your baking.
Peppermint Vitality is an important ingredient in Young Living's DiGize™ Vitality.
Peppermint Vitality Essential Oil Uses:
Add to your daily dietary supplements as overall support for healthy digestive system comfort.* Simply add 1–2 drops in a vegetarian gel capsule and take daily or as needed.
Include a drop in a tall glass of cool water for a refreshing start to your morning.
Blend with your pre-workout drink for an energizing start or wind down after your workout with a mint-infused chocolate or vanilla protein shake.
Use in baking and in a wide variety of desserts.
*These statements have not been evaluated by the Food and Drug Administration. This product is not intended to diagnose, treat, cure or prevent any disease.
Love to have this for yourself or a gift for someone?
Item number No.19371
whsl. $138.75
Retail $
Texasessentialoilers.com
Get started with a premium starter kit
Happy Holidays,
Missy